DAY
7
Remaining Players:
9
Saturday, July 07, 2012 to Monday, July 16, 2012
$♣$♦
Free
$
160PokerBANKROLLS
$♥$♠
Jesse SYLVIA
| Seat | Player | Country | Age | Chip Count |
| --- | --- | --- | --- | --- |
| 1 | Russell Thomas | USA | 24 | 24,800,000 |
| 2 | Jacob Balsiger | USA | 21 | 13,115,000 |
| 3 | Jeremy Ausmus | USA | 32 | 9,805,000 |
| 4 | Steven Gee | USA | 56 | 16,860,000 |
| 5 | Greg Merson | USA | 24 | 28,725,000 |
| 6 | Jesse Sylvia | USA | 26 | 43,875,000 |
| 7 | Robert Salaburu | USA | 27 | 15,155,000 |
| 8 | Andras Koroknai | Hungary | 30 | 29,375,000 |
| 9 | Michael Esposito | USA | 43 | 16,260,000 |
Nine Players, One Bracelet: The WSOP Main Event Final Table Is Set!
Level 34 started
| | | | | | | | |
| --- | --- | --- | --- | --- | --- | --- | --- |
| Level: | 34 | | Blinds: | 150000/300000 | | Ante: | 40000 |
Here We Go Again on a Break
Cylus Watson Eliminated in 22nd Place ($294,601)
Ladouceur Leads the Remaining 27 Players
Erik Hellman Eliminated in 28th Place ($236,921)
check
$♣$♦
Free
$
160PokerBANKROLLS
$♥$♠
| | | | | | | | |
| --- | --- | --- | --- | --- | --- | --- | --- |
| Level: | 30 | | Blinds: | 60000/120000 | | Ante: | 15000 |
Twenty-Seven
The tournament staff has decided to play down to twenty-seven players, so rather than stop now, we will continue until there is one more elimination.
One for Hille
Jamie Robbins opened for 215,000 and received a call from Elisabeth Hille. Robbins proceeded to check-called a bet of 285,000 on the
flop, but then check-folded to a bet of 460,000 on the
turn.
Niels van Alphen Eliminated in 30th Place ($236,921)
Shahriar Assareh Eliminated in 31st Place ($236,921)
Hellman Rivers Boat
Sylvia Beats Ausmus
From the button, Jesse Sylvia raised to 205,000. Jeremy Ausmus called from the big blind and the flop came down
. Both players checked.
The turn wasthe
and Ausmus bet 300,000. Sylvia called to see the
land on the river. Both players checked.
Sylvia showed the
and Ausmus mucked his hand.
Taylor Paur Eliminated in 33rd Place ($236,921)
Taylor Paur moved all in from middle position for 1.335 million and cleared the field all the way around to Jamie Robbins, who made the call from the big blind.
A Costly String Bet
check
$♣$♦
Free
$
160PokerBANKROLLS
$♥$♠
Shahriar Assareh opened to 225,000 from middle position, Robert Corcione three-bet to 550,000 from the hijack seat, and the action folded back to Assareh. He went into the tank for the better part of a minute, then announced, "Raise."
He grabbed 1 million chips with two hands, but only slid one stack of 500,000 forward at a time. As he was sliding the second stack forward, the dealer informed him that he would be forced to min-raise to 875,000, rather than four-bet to 1.225 million as he intended.
Corcione called, and the flop fell
. Assareh led for 500,000, and Corcione called.
The turn was the
, and Assareh led out for another 500,000. Corcione called.
The
completed the board, and once more, Assareh tossed out 500,000. Corcione tanked for nearly a minute, then called.
Assareh turned over
for a pair of jacks, but Corcione had that beat with
for a rivered straight.
One for Koroknai
check
$♣$♦
Free
$
160PokerBANKROLLS
$♥$♠
From middle position, Paul Volpe raised to 200,000. Andras Koroknai called from the hijack seat and Amnon Filippi called out of the big blind. The three players took a flop of
. Filippi and Volpe checked before Koroknai bet 265,000. Both his opponents folded and Koroknai won the pot.
Strelitz Sneaks Into the Chip Lead:
Russell Thomas raised to 210,000 from the cutoff and Daniel Strelitz defended from the big blind. Both players checked the
flop, and then Russell called a bet of 315,000 from Strelitz on the
turn.
When the
was put out on the river, Strelitz led out for 865,000. Thomas thought for a bit before making the call, but mucked when Strelitz rolled over
for two pair.
Jacob Climbing Ladder
The action began with Percy Mahatan checking his cards while sitting under the gun, then raising to 180,000. It folded to Jacob Balsiger in middle position who called, and everyone else folded.
Day 5 Concludes; Kyle Keranen Leads The Final 97 Players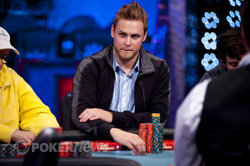 Kyle KERANEN
When the sun rose over Las Vegas today, 282 players awoke with dreams of becoming the next world champion of poker. After five grueling levels of play on Day 5, only 97 remain. This means that at the most basic level, each player returning for Day 6 has at least a one in ninety-seven shot at winning the first place prize of $8,527,982 and the shiny gold championship bracelet that accompanies it. The one closest to achieving this goal is Kyle Keranen who is sitting on the biggest stack in the room with 6,935,000.
On Keranen's heels is Robert Salaburu who finished Day 5 with a stack of 6,195,000. Rounding out the top three is Taylor Paur with 5,820,000.
Rabstov Eliminated During Last Five Hands
Most of the remaining players were bagging and tagging when we heard a dealer shout, "All in and call!"
A Small Stack and a Big Smile
It happens every year. A kind of camaraderie tends to develop between those who make it through the long, arduous journey into the money of the WSOP Main Event, especially for those getting all of the way to the end of a Day 5.
Keranen Vaults Into Chip Lead
Kyle Keranen raised to 60,000 from under the gun, and Marcia Topp called from the big blind. The flop came down all spades
, and Topp fired 100,000. Keranen called, and the turn was the
. Topp check called a bet of 175,000 from Keranen, and the river was the
. This time, Topp bet 175,000, and it was on Keranen. He elected to raise it to 475,000, and after about 30 seconds of thinking, Topp made the call.
Keranen:
Topp:
Keranen's ace kicker was good enough to take the pot, upping him to a chip leading 6.816 million. That hit drops Topp to 1.682 million.
Nguyen Takes Some From Yontz
Action folded to Casey Yontz in the cutoff and he raised to 65,000, which Dung Nguyen called from the small blind. The latter proceeded to check-call a bet of 90,000 on the
flop, before check-calling a bet of 134,000 on the
turn.
When the
appeared on the river, Nguyen checked for a third time and Yontz reluctantly checked behind. "Five," Nguyen said and rolled over
. It was good as Yontz mucked, but not before informing Nguyen that he didn't want to see another club.
Kluchman Folds to Balsiger; Forced to Show Hole Cards to Camera
We caught up with the action on a
flop, where David Kluchman was heads-up with Jacob Balsiger.
Kluchman bet 125,000 from the cutoff seat and Balsiger called after some thought.
The
fell on the turn and Kluchman fired again - this time for 165,000. Balsiger responded by raising to 405,000 and Kluchman almost beat him into the pot with a call.
The
completed the board and Kluchman checked - promting a 600,000 bet from Balsiger. Kluchman announced, "fold," and went to throw his hand into the muck.
...Then the drama started.
Kluchman was informed by the surrounding ESPN camera crew that he had to show his hand to their small portable camera so that it could be used as footage. Kluchman said he didn't want to show his hand and asked for a floorman.
Unbeknownst to Kluchman, a floorman was standing behind him.
"Sir, if you don't show your cards to the camera - you're going to get a one-round penalty," the floorman said.
"Alright, alright - show them," Kluchman said. He was then instructed to show the portable camera his hole cards, which he did. He then hastily mucked.
Kluchman was knocked down to 2.4 million, while Balsiger chipped up to 3.9 million.
Filippi Finds Chips
Tristan Clemencon opened to 65,000 from under the gun and it folded around to Amnon Filippi on the button. Filippi flung out a call and the blinds got out of the way. The flop came down
and Clemencon continued out for 99,000. Filippi called and the camera crews swooped down to capture the hand.
After about a minute, the dealer produced the
on the turn. They both checked and did so once again on the
river. Filippi showed
and Clemencon threw his hand into the muck.
100
Players Remain
With less than a half-hour left to play in Day 5, we are down to 100 players. The average chip stack at the moment is a little under 2 million.
Kyle Keranen raised it up to 60,000 in early position, and Amit Makhija made the call from the small blind. They went heads up to an all spade flop of
. Makhija checked to Keranen who fired out 80,000. Makhija made the call, and the turn brought the
. Both players checked, and the river came the
. Makhija checked again, and Keranen fired out 285,000. Makhija made the call, and Keranen rolled over
for the nut flush.
Makhija mucked, and Keranen jumps up to just under six million, while Makhija drops to 1.154 million.